Cosmetic Acupuncture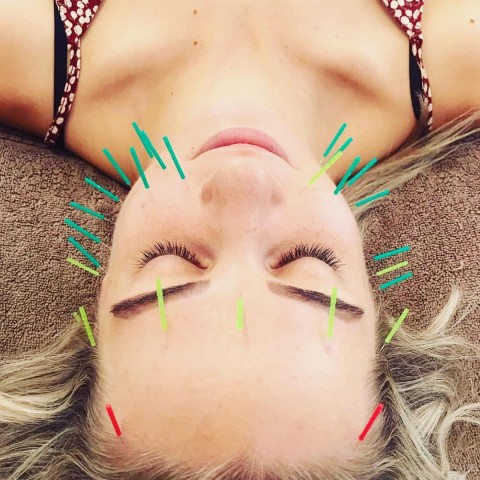 kin Cosmetic Acupuncture and Facial Rejuvenation
Cosmetic acupuncture is an alternative to popular facial rejuvenation techniques like botox injections, laser therapy, and aesthetic services. It is a safe alternative that can produce natural-looking results in as little as 8 sessions. Acupuncture has unique advantages compared to other therapies.
The secret to effective treatment lies just under the first layer of skin!
Acupuncture needles are inserted into specific areas where mastocytes congregate. The needle instantly triggers the release of collagen in that area. Mastocytes are white blood cells that carry around dozens of important materials. When an acupuncture needle disrupts these cells it causes the mastocytes to dump their contents - collagen being the primary substance. Collagen is the most abundant protein found in our bodies. It's the primary substance that holds together our skin and connective tissue.
Collagen is basically the glue that keeps us together.
A host of other anti-inflammatory substances are released from mastocytes, including histamine which can help reduce redness or itchy skin. Serotonin can help decrease visible blood vessels in the skin and IL-4 which decreases inflammation. Inserting acupuncture needles to stimulate mastocytes under a wrinkle helps fill the wrinkle with increased collagen from the bottom instead of from the top. The disruption of these mastocytes causes a chemical reaction which forces each cell in the area to clean itself out. Each cell dumps it's waste and makes room for more oxygen on the cell and in turn releases ATP (called the Krebs cycle).
Acupuncture needles cause a "micro-trauma"
Your body responds to these tiny injuries by sending its immune resources to the face. This increases the benefit of tissue healing, reducing dark spots, and supporting healthier skin in general. A "micro-trauma" can be incredibly beneficial! We have a special device that forces your body to continue to make and distribute natural collagen over time. And it feels great!
Towards the end of the session, we connect the needles to an electrical stimulation machine to the needles. This scientifically advanced machine is set at a specific frequency that promotes collagen production. We insert the needles below the skin and connect the device so the electrical current at the proper depth. This is much stronger than topical microcurrent treatments!
We give you spa experience plus medical grade benefits. Additionally, we provide world class formulas that are scientifically equipped with nutritional nano bio-emulsion sphere that delivers vitamins, minerals, and essential lipids to protect the skin's immunity integrity. This is true "Skin Food". To see our exclusive skincare line click here.
During the treatment, we use a rejuvenating green tea or chamomile eye compress to help reduce the puffiness around the eyes. Hyaluronic acid and collagen serum are used during the treatment to help the most superficial part of the skin reap maximum benefit.
To conclude the session we perform traditional Chinese cupping to gently move all those amazing anti-inflammatory cells to target areas. Cupping feels wonderful. It's known to help tighten and lift saggy skin. GuaSha, also known as scraping or Graston is used in areas where the skin is rough or there are scars.
We don't just fill your wrinkles,
we help your body produce collagen so that your skin can be back to its youthful appearance naturally!
Stay Informed
When you subscribe to the blog, we will send you an e-mail when there are new updates on the site so you wouldn't miss them.
Comments
No comments made yet. Be the first to submit a comment